El Menia
Code:

58

Name in arabic:

المنيعة

Name in english:

El Menia

Name in berber:

Phone Code:

029

Zip code:

58000

Population:

57 276 hab. (2008)

Area :

27 000 km2
Presentation of the wilaya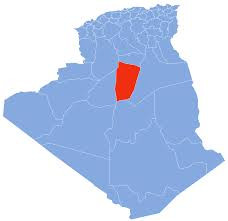 The wilaya of El Meniaa is an Algerian wilaya created in 2019 and formalized in 2021, previously a delegated wilaya created in 2015 . It is located in the Algerian Sahara .
During the administrative division of 2015, the delegated wilaya of El Meniaa is made up of 3 municipalities and 2 daïras .
In 2019, the wilaya is made up of three municipalities 4 :
· El Menia
· Hassi fehal
· Hassi Gara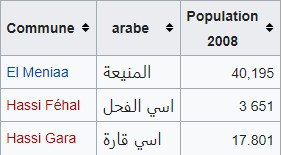 GEOGRAPHICAL SITUATION (Relief - Climate, etc.)
The province of El Meniaa is in the Algerian Sahara , its area is 62 215 km2 2 .
It is bordered:
· to the north by the wilaya of Ghardaïa ;
· to the east by the wilaya of Ouargla ;
· to the west by the wilaya of El Bayadh and that of Timimoun ;
· and to the south by the wilaya of In Salah .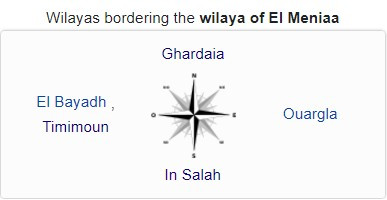 Weather :
El Menia has a hot desert climate, with long, extremely hot summers and short, hot winters. There is very little rain throughout the year and the summers are particularly dry.

Some pictures of El Meniaa