Djanet
Code:

56

Name in arabic:

جانت

Name in english:

Djanet

Name in berber:

ⵊⴰⵏⴻⵜ

Phone Code:

029

Zip code:

56000

Population:

17 618 hab. (2008)

Area :

86 185 km2
Presentation of the wilaya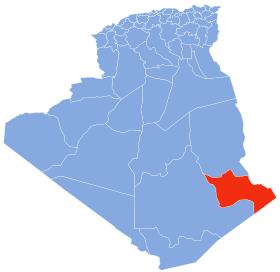 The wilaya of Djanet is an Algerian wilaya created in 2019 and formalized in 2021, previously a delegated wilaya created in 2015 . It is located in the Algerian Sahara
During the administrative division of 2015, the delegated wilaya of Djanet is made up of 2 municipalities and a daïra .
In 2019, the wilaya is made up of two municipalities :
GEOGRAPHICAL SITUATION (Relief - Climate, etc.)
The wilaya of Djanet is in the Algerian Sahara in the far south of the country, its area is 86 185 km 2 .
It is bordered:
to the north by the wilaya of Illizi ;
to the west by the wilaya of Tamanrasset ;
to the east by Libya ;
to the south by the Niger .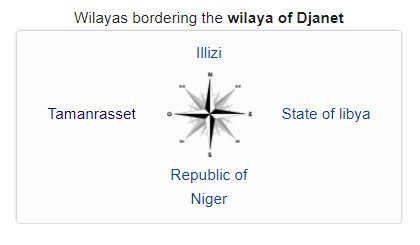 Weather :
In Djanet, the summers are long, sweltering, arid, and clear and the winters are short, cool, dry, and mostly clear. During the year, the temperature usually ranges from 4 ° C to 38 ° C and is rarely less than 0 ° C or greater than 40 ° C .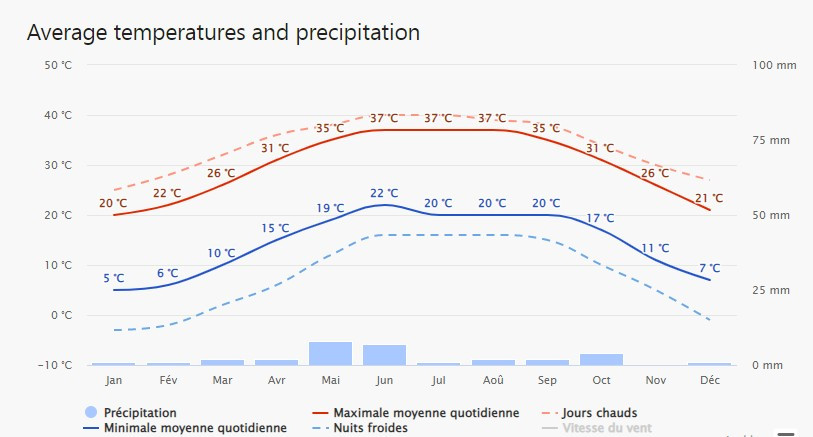 Some pictures of djanet