In Guezzam
Code:

54

Name in arabic:

إن ڨزام

Name in english:

In Guezzam

Name in berber:

ⵉⵏ ⴳⴻⵣⴰⵎ

Phone Code:

029

Zip code:

54000

Population:

11 202 hab. (2008)

Area :

88 126 km2
Presentation of the wilaya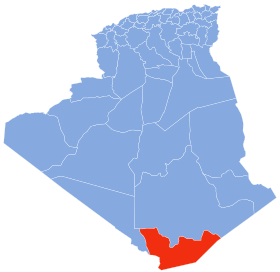 The wilaya of In Guezzam is an Algerian wilaya created in 2019 and formalized in 2021, previously a delegated wilaya created in 2015 . It is located in the Algerian Sahara .
The wilaya of In Guezzam is located in the Algerian Sahara , in the extreme south of the country, its area is 88,126 km 2
During the administrative division of 2015, the delegated wilaya of In Guezzam is made up of 2 municipalities and 2 daïras .
In 2019, the wilaya is made up of two municipalities :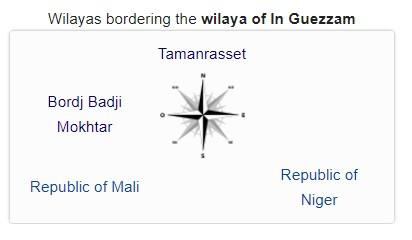 GEOGRAPHICAL SITUATION (Relief - Climate, etc.)
It is bordered:
to the north by the wilaya of Tamanrasset ;
to the west by the w cilaya of Bordj Badji Mokhtar ;

Weather :
Hot desert climate with long, extremely hot summers and short, very hot winters. Despite an extremely dry climate, some occasional rains occur during the months of August and September due to the influence of the far north of the West African monsoon , unlike most of the Algerian desert . Average high temperatures soar at the height of the long summer season, with daytime highs consistently above 40 ° C (104 ° F) for almost 4 months and even above 45 ° C.

Some pictures of In Guezzam