Béni Abbès
Code:

52

Name in arabic:

بني عباس

Name in english:

Béni Abbès

Name in berber:

ⴰⵝ ⵄⴱⴱⴰⵙ

Phone Code:

049

Zip code:

52000

Population:

50 163 hab. (2008)

Area :

101 350 km2
Presentation of the wilaya
The wilaya of Béni Abbès is an Algerian wilaya created in 2019 and formalized in 2021, previously a delegated wilaya created in 2015 . It is located in the Algerian Sahara .
The province of Beni Abbes is located in southwest Algeria, in the Sahara between the regions of Guir , Tuat and Gourara , it covers an area of nearly 101 350 km 2
During the administrative division of 2015, the delegated Wilaya of Béni Abbès is made up of:
GEOGRAPHICAL SITUATION (Relief - Climate, etc.)
The wilaya of Béni Abbès is bounded by :
to the north by the wilaya of Bechar ;
to the east by the wilaya of Timimoun ;
to the west by the Kingdom of Morocco ;
to the southwest by the wilaya of Tindouf ;
to the south and southeast by the wilaya of Adrar .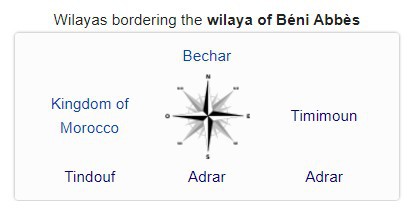 Relief:
Béni Abbès is built on a rocky hill on the left bank of the Saoura wadi . The city is bordered to the north, east and west by the Grand Erg Occidental and to the south and southwest by the valley of the Saoura 1 . 50 km to the south are the Ugarta ranges (next to the Ougarta oasis )
Weather :
Béni Abbès enjoys a hot desert climate typical of the Sahara with very long and extremely hot summers and short and very mild winters. The climate is largely hyper-arid and extremely dry all year round, with average annual precipitation of around 36 mm . The drought is even more accentuated during the summer.

Some pictures of Beni Abbés