Tindouf
Code:

37

Name in arabic:

تندوف

Name in english:

Tindouf

Name in berber:

ⵜⴰⵡⵉⵍⴰⵢⵜ ⵏ ⵜⵉⵏⴷⵓⴼ

Phone Code:

049

Zip code:

37000

Population:

49 149 hab. (2008)

Area :

158 874 km2
presentation of the wilaya: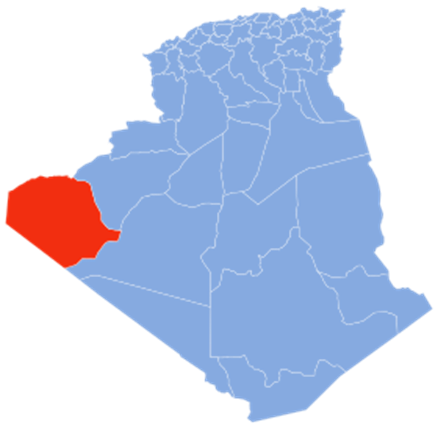 The wilaya of Tindouf, (in Berber: ⵜⴰⵡⵉⵍⴰⵢⵜ ⵏ ⵜⵉⵏⴷⵓⴼ; in Arabic: ولاية تندوف), is a wilaya in the far west of Algeria, with the capital of the eponymous town of Tindouf. Formed in 1984 by splitting of the wilaya of Béchar, it is bordered to the north by Morocco, to the northeast by the wilaya of Béchar, to the west by the non-autonomous territory of Western Sahara, to the east by the wilaya of Adrar and to the south by Mauritania. Its area is 159,000 km2, its population is estimated in 2010 at 59,898 inhabitants.
The region has several refugee camps from Western Sahara annexed by the Kingdom of Morocco in 1975 the day after the departure of the Spaniards.
Geography: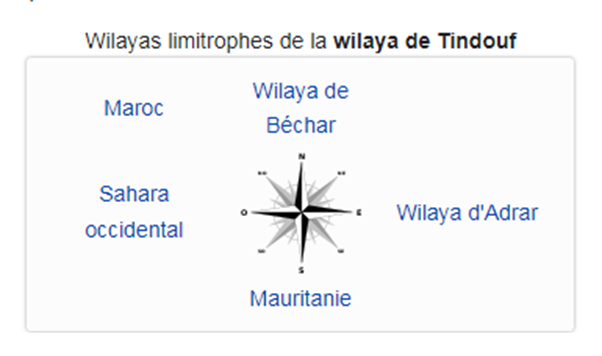 The wilaya of Tindouf has the particularity of being the Algerian wilaya which has the smallest number of municipalities and daïras: it is made up of only two municipalities: Tindouf and Oum el Assel, which together form the single daïra of Tindouf. .
water resources:
Dams:
This wilaya has no dams.
At the national level, other dams are part of the 65 operational dams in Algeria while 30 others are under construction in 2015.
CCIT / Chamber of Commerce and Industry of Tafagoumt
Administrative block. 50 offices, Tindouf, Algeria
Contact details of the Chamber of Commerce and Industry of Tindouf
CCIT / Chamber of Commerce and Industry of Tafagoumt
Address:

Administrative block. 50 offices, Tindouf, Algeria

Email:

Mobile:

There is no primary mobile phone

Landline number:

049 38 73 09

Fax:

049 38 73 09

Viber:

There is no viber account

Work hours:

We don't have this information.

Website: