Oran
Code:

31

Name in arabic:

وهران

Name in english:

Oran

Name in berber:

ⵜⴰⵎⵏⴰⴹⵜ ⵏ ⵡⴰⵀⵔⴻⵏ

Phone Code:

041

Zip code:

31000

Population:

1 454 078 hab. (2008)

Area :

2 114 km2
Presentation of the wilaya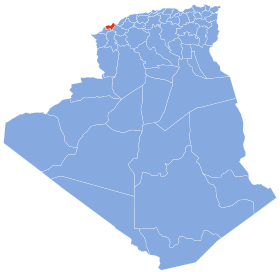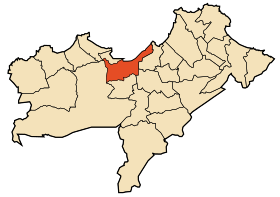 The wilaya of Oran (in Arabic : ولاية وهران ; in Tamazight : ⵜⴰⵎⵏⴰⴹⵜ ⵏ ⵡⴰⵀⵔⴻⵏ ) is an Algerian administrative subdivision located in the northwest of the country. It is populated by 1,454,078 inhabitants in 2008 for an area of 2,114 km 2
The wilaya of Oran is divided into nine daïras , over which 26 municipalities are divided .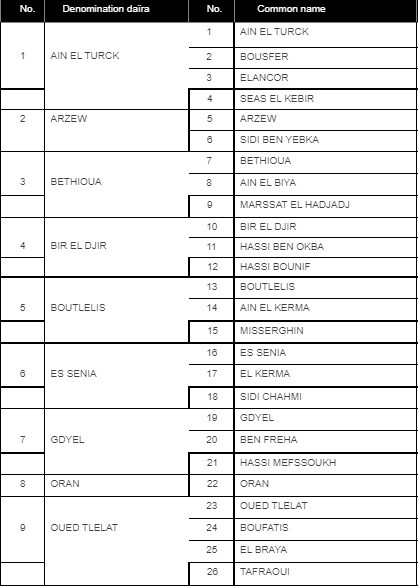 GEOGRAPHICAL SITUATION (Relief-Climate…)
The wilaya of Oran is bordered to the east by the wilaya of Mostaganem , to the southeast by that of Mascara , to the southwest by that of Sidi-Bel-Abbès and to the west by that of Aïn Témouchent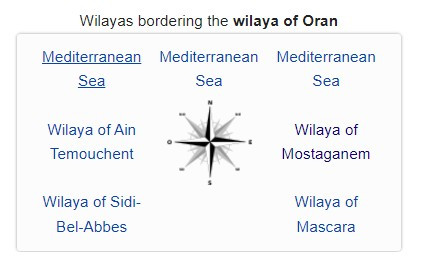 Relief:
Oran is on the edge of the southern shore of the Mediterranean basin ; it is located in the northwest of Algeria, 432 km west of the capital Algiers.
The city rises at the bottom of a bay open to the north on the Gulf of Oran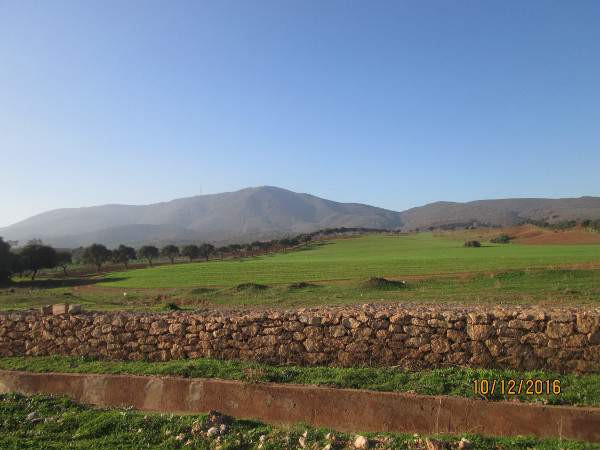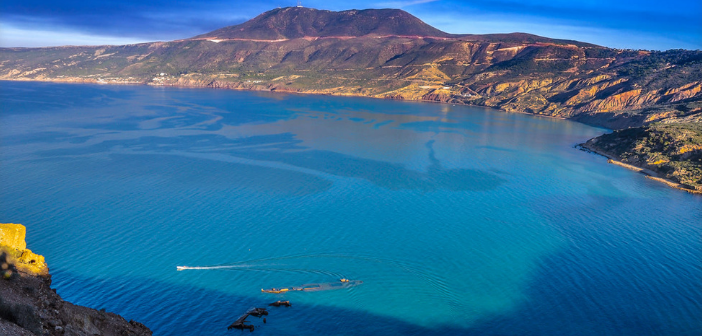 Weather :
Oran enjoys a classic Mediterranean climate marked by summer drought, mild winters, bright and clear skies. During the summer months, rainfall becomes scarce or non-existent. The subtropical anticyclone covered the Oran region for almost four months. On the other hand, the region is well watered during the winter. Low rainfall (420 mm of rain) and its frequency (72.9 days per year) are also characteristic of this climate.

ECONOMIC POTENTIAL
Coastal city of the Mediterranean basin, Oran is a major center of commerce, because it is a metropolis with regional influence due to its port, airport, rail and road infrastructures and a place of choice in terms of investment.
Agricultural Potentials
Peri-urban agriculture operates through individual initiatives that result in agricultural diversification : development of crops with high added value, market gardening, arboriculture and ornamentals. The structured interviews conducted with peri-urban farmers helped to explain the factors that are at the origin of these transformations. The profit drawn from the crops grown is linked to the increase in urban demand, agricultural intensification being a response to the precariousness of land engendered by urbanization and by the excessive fragmentation of properties.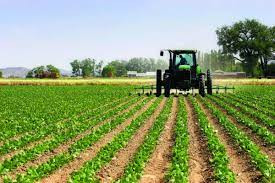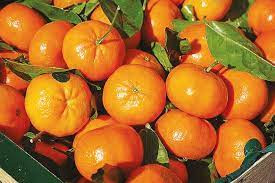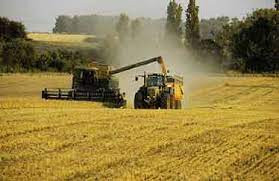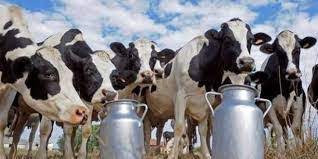 Industry
The secondary sector (industrial transformation) occupies an essential place in the economic landscape of the wilaya. The petrochemical industry, its energy and plastic derivatives dominate the economic landscape. The presence of hydrocarbons has enabled the development of energy-consuming industries such as the steel industry and that of building materials. Other sectors are well represented: Chemicals, petrochemicals, detergent production, paint, plastics, cosmetics, pharmaceuticals, household goods, furniture manufacturing, iron and steel, metallurgy, packaging, agri-food, textiles, leather, construction materials, industrial maintenance, assembly of computer equipment.

ECONOMIC, ADMINISTRATIVE AND SOCIAL INFRASTRUCTURES
Hydraulic
This wilaya includes the following dams :
Beni Bahdel dam.
Sidi Abdelli dam.
The wilaya of Oran is among those of Algeria with the fewest boreholes. Only eighteen boreholes in operation are inventoried
The wilaya of Oran is also equipped with several desalination plants ,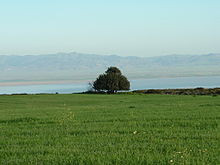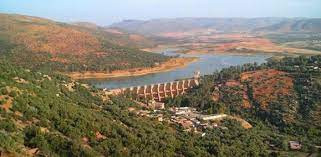 Road network

Port infrastructure

The wilaya has three ports with : - Port of Oran: 2nd commercial port in the country. - Port of Arzew: 1st oil port in the country. - Port of BETHIOUA: Petroleum port of the country.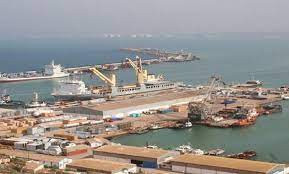 Rail network
The wilaya has a rail network with a length of 95 kilometers (a single track of 66 kilometers and a double track of 29 kilometers), three railway stations (Oran, ES SENIA and Oued TLELAT) through which pass 2 million travelers /year and 3 million tons of goods/year.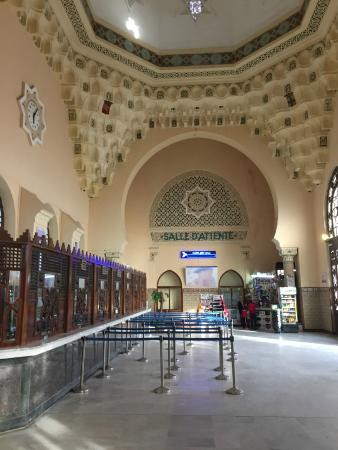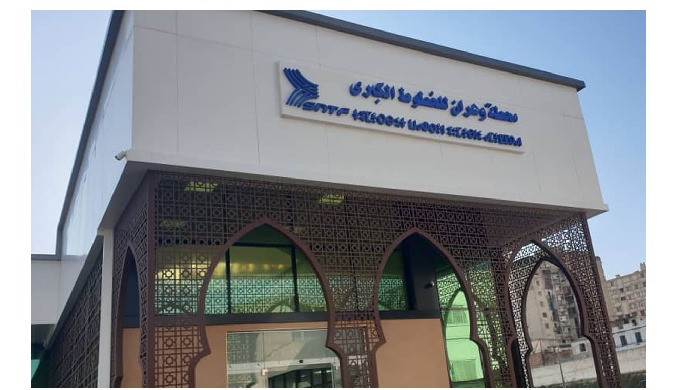 Airport infrastructure
The wilaya has an international class airport with a capacity of 3 million travelers per year.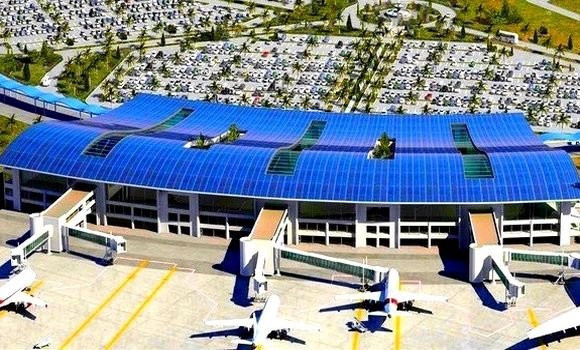 Health

Oran Hospital.
Ain El Turk Hospital.
Canastel Hospital.
Sidi Chahmi Hospital.
Oran Cancer Hospital
Oran Eye Hospital
Oran pines hospital.
Oran Almond Hospital.
Tour point hospital in Oran.
Nouar Fadila Hospital in Oran.
Akid Othmane Hospital in Ain El Turk.
El Mouhgoun hospital in Arzew
oran pediatric hospital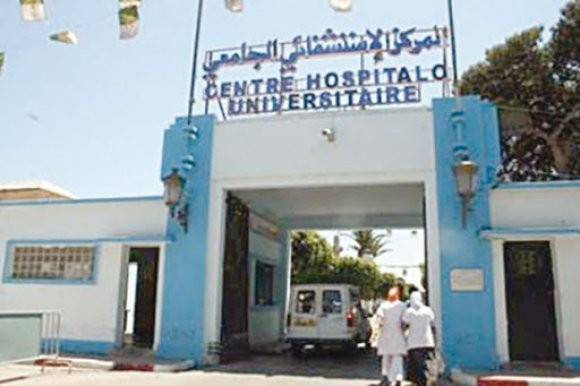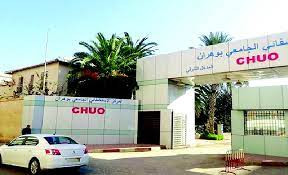 TOURIST ACTIVITIES
Oran is a tourist place. Many tourists come to discover or rediscover this Mediterranean city. The agglomeration of Oran has fifteen Tourist Expansion Zones (ZET).
Oran is located on the edge of the South Shore of the Mediterranean Basin , northwest of Algeria . The city offers an ideal point to admire the whole region offering a magnificent landscape : mountains, chalky hills, cliffs, deep canyons and river beds.
Oran is also a city where culture has developed considerably.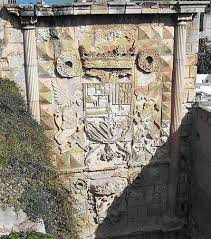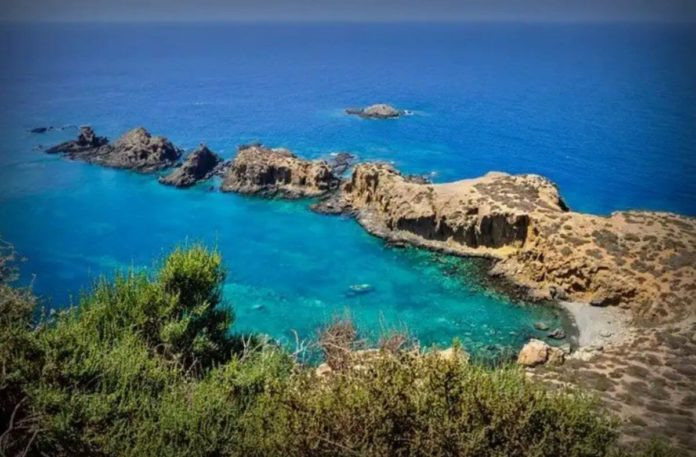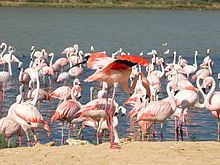 CCIO / Chamber of Commerce and Industry of Orania
08, Boulevard de la Soummam, Oran, Algeria, 31000
Contact details of the Chamber of Commerce and Industry of Oran
CCIO / Chamber of Commerce and Industry of Orania
Address:

08, Boulevard de la Soummam, Oran, Algeria, 31000

Email:

Mobile:

There is no primary mobile phone

Landline number:

041 36 18 46

041 36 18 48

Fax:

041 36 10 63

041 36 18 49

Viber:

There is no viber account

Work hours:

We don't have this information.