Constantine
Code:

25

Name in arabic:

قسنطينة

Name in english:

Constantine

Name in berber:

ⵇⵙⵏⵟⵉⵏⴰ

Phone Code:

025

Zip code:

25000

Population:

448 374 hab.

Area :

231,63 km2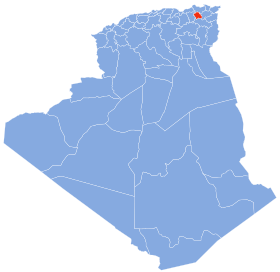 Constantine (Arabic: قسنطينة Qusanṭīnah), also spelled Qacentina or Kasantina, is the capital of Constantine Province in northeastern Algeria. During Roman times it was called Cirta and was renamed "Constantina" in honor of emperor Constantine the Great. It was the capital of the French department of Constantine until 1962. Located somewhat inland, Constantine is about 80 kilometres (50 miles) from the Mediterranean coast, on the banks of the Rhumel River.
Constantine is regarded as the capital of eastern Algeria and the commercial center of its region, and it has a population of about 450,000 (938,475 with the agglomeration), making it the third largest city in the country after Algiers and Oran. There are several museums and historical sites located around the city. Constantine is often referred to as the "City of Bridges" due to the numerous picturesque bridges connecting the various hills, valleys, and ravines that the city is built on and around.
Geography:
Constantine is situated on a plateau at an elevation 640 metres (2,100 ft) above sea level. The city is framed by a deep ravine and has a dramatic appearance. The city is very picturesque with a number of bridges over Rhumel River and a viaduct crossing the ravine. The ravine is crossed by seven bridges, including Sidi M'Cid bridge. Constantine is the railhead of a prosperous and diverse agricultural area. It is also a centre of the grain trade and has flour mills, a tractor factory, and industries producing textiles, wool, linen and leather goods Algeria and Tunisia serve as its markets.
climate:
Constantine has a Mediterranean climate (Köppen climate classification Csa), with hot, dry summers and mild, moist winters.
View of the Sidi M'Cid footbridge from the city center.
Constantine was traditionally a city where the tertiary and commercial sectors dominated. At present, the grain trade and the clothing trade predominate. It remains the major hub of exchanges and communications in eastern Algeria. Tertiary activities include wholesale and retail trade; crafts: brassware and embroidery on velvet, and multiple services.
However, industry was introduced late in the city following the creation of a series of industrial zones, in particular by the Sonacome complexes which manufacture tractors and cranes. It was during the second phase of industrialization planned by the Algerian state, starting around 1975, that Constantine became an industrial city. However, industrialization was located away from the city, in the ring of satellite urbanization. Three complexes have been established there. Constantine is also home to the Biotechnology Research Center.
The city is also home to agricultural activities encompassing peri-urban farms supplying milk to certain districts, and landowners who are heirs to old city property.
The city of Constantine remains a very courted city economically and this is one of the reasons why the city welcomes every year and in large numbers workers who come from all over Algeria to settle there.
CCIR / Rhummel Chamber of Commerce and Industry
6, rue du 26 November 1974.bp 394, Constantine, Algeria
Contact details of the Chamber of Commerce and Industry of Constantine
CCIR / Rhummel Chamber of Commerce and Industry
Address:

6, rue du 26 November 1974.bp 394, Constantine, Algeria

Email:

Mobile:

There is no primary mobile phone

Landline number:

031 93 59 23

031 93 19 65

Fax:

031 93 78 07

Viber:

There is no viber account

Work hours:

We don't have this information.

Website: