Skikda
Code:

21

Name in arabic:

سكيكدة

Name in english:

Skikda

Name in berber:

ⵜⴰⵎⴻⵏⴰⴹⵜ ⵏ ⵙⴽⵉⴽⴷⴰ

Phone Code:

038

Zip code:

21000

Population:

898 680 hab. (2008)

Area :

4 026 km2
Presentation of the wilaya: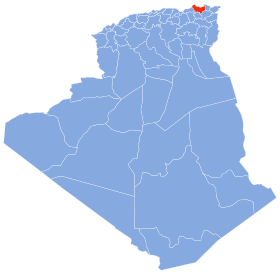 The wilaya of Skikda (in Arabic: ولاية سكيكدة, in Berber ⵜⴰⵎⴻⵏⴰⴹⵜ ⵏ ⵙⴽⵉⴽⴷⴰ 3) is an Algerian wilaya located in the northeast of Algeria, in the North of Constantine on its seafront
geography of the wilaya: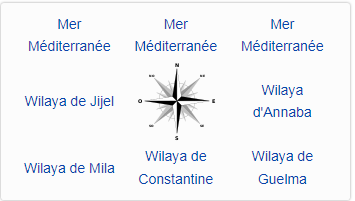 The wilaya of Skikda faces the Mediterranean Sea to the north and has common borders with the wilayas of Annaba and Guelma to the east, Constantine and Mila to the south and Jijel to the west. It extends over 4,137.68 km2, with a population of around 804,697 inhabitants. It has 130 km of coastline stretching from El Marsa in the east to Oued Z'hour in the depths of the Collo massif in the west.
Relief:

The relief is very rugged on the eastern coastal fringe, in the Collo, Azzaba and Marsa massifs. In this relief there are three types of topographic zones, the mountain zones, the plain zones and the foothills zones.
Weather:

A climatic originality: it is the wettest zone of Algeria after Djebel Babor
Collo: 1,002 mm in 91 days of rain

El Milia: 1,114 mm in 115 days
Ain El Ksar: 1,595 mm in 99 days
Zitouna: 1,773 mm in 115 days

hydrolyc resources: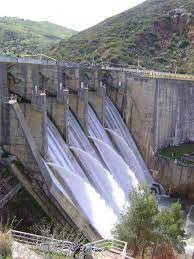 The wilaya of Skikda includes the following dams:
Zerdezas dam: 20 million m3.
Guenitra dam: 125 million million m3.
Zit Emba dam: 120 million m3.
Beni Zid dam: 50 million m3.
These dams are part of the 65 operational dams in Algeria12 while 30 others are under construction in 2015.
economy: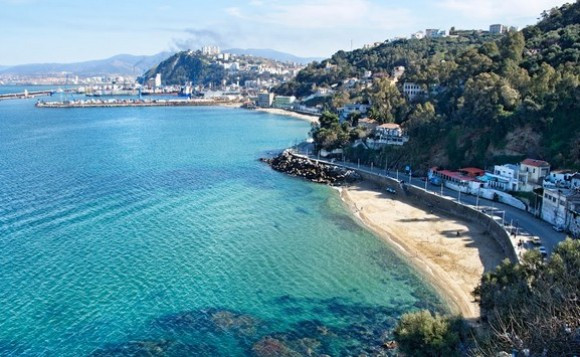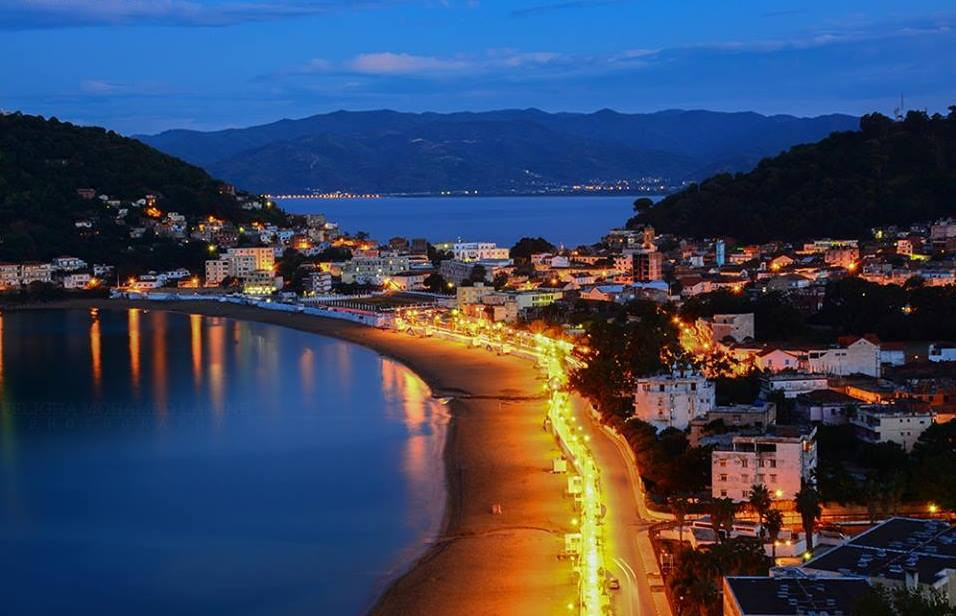 Wilaya with a dual initial agricultural and tourist vocation, Skikda was famous for its beaches, its citrus orchards (oranges, mandarins, lemons, etc.), its strawberry cultivation, its olive oil mills and fish processing. After independence, it became an important industrial area of ​​Algeria, forming the eastern industrial triangle with Constantine and Annaba.
A seawater desalination station is under construction as well as a liquid helium production complex.

One of Algeria's largest petrochemical areas is to the east of the city, in the suburb of Larbi Ben M'Hidi (formerly Joan of Arc).

Skikda has economic and tourist potential, with a coastline of 130 km where beaches follow one another (from Tamanart in the west to El Marsa in the east), and where there are 8 areas of tourist expansion. This geographical position combined with the importance of its technical infrastructures (national roads, ports and railways) allow it to play an important role in trade and economic flows.

Tourism, very promising because of the enormous potential of the Wilaya in this area, today suffers from a lack of infrastructure and the effects of the all-industrial policy initiated during the 1970s. But efforts are being made for several years to revitalize the sector.

CCISS / Chamber of Commerce and Industry of Saf Saf
12, rue Mohammed Nafir, Skikda, Algeria
Contact details of the Chamber of Commerce and Industry of Skikda
CCISS / Chamber of Commerce and Industry of Saf Saf
Address:

12, rue Mohammed Nafir, Skikda, Algeria

Email:

Mobile:

There is no primary mobile phone

Landline number:

038 75 24 26

Fax:

038 75 24 26

038 76 47 25

Viber:

There is no viber account

Work hours:

We don't have this information.

Website: